Masters of Immersion
Whether you enjoy movies, games or sports events, every image is sure to pop off the screen with Epson's state-of-the art, innovative home projectors.
The Epson 3-chip LCD Solution
All Epson projectors are based on 3-chip LCD technology for amazing colour, incredible detail and solid reliability. 3LCD's 3-chip architecture dedicates an entire chip to process each primary colour continuously, unlike single-chip technology that delivers colour sequentially. The result is full-time colour for vibrant, realistic images and video all delivered with 3LCD's true-to-life colour.
Discover the myths and truths about home projectors
Myth 1
I do not need a projector at home when I have television.
Truth
Home projectors provide a big-screen, surround-sound theatre experience in the comfort of your home. Watching from a projection screen is also less stressful on the eyes as the light reflection is not as strong as that of a conventional television screen.
Myth 2
The projector has a lamp life and it is very costly to change a projector lamp.
Truth
Expensive lamps are a thing of the past. Epson has home projectors that use economically priced lamps (light source) for maintenance free usage up to 5,000 hours*.
Myth 3
I cannot easily see the whole screen and have to turn my head from left to right to follow the action.
Truth
Easily adjust your preferred viewing screen size, ranging from 60 inches to more than 100 inches. With just a 3-metre distance, you can create a 100-inch screen.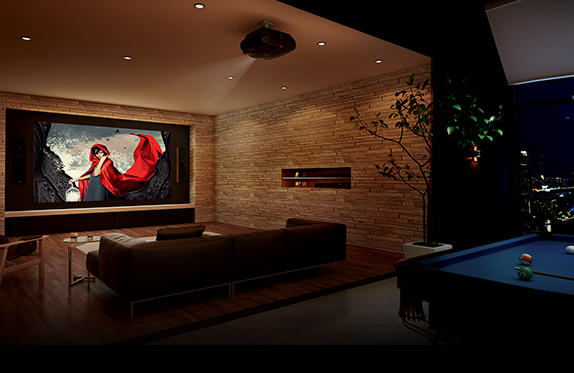 Myth 4
I do not have a large blank or white wall that I can use for installing a projector screen.
Truth
It is possible to have a pull-down screen or a portable screen which can be kept away when not in use.
Myth 5
I need to shut off all natural and electrical light sources to comfortably watch a projection screen.
Truth
With white and colour brightness of up to 3,000 lumens in our range of home projectors, you no longer need to darken the room in order to comfortably view what's on the screen.
Myth 6
Installing a projector means a lot of messy cables, especially in a home that is already renovated.
Truth
Epson's home projectors can be set up anywhere in a room and can be easily connected to your smart devices. There is also a model that offers a WirelessHD function for wireless uncompressed Full HD quality movies.